Intensive Program / Dance Auditions 2019-2020
Registration Information
We are so excited to be hosting a set of Fall Intensive Auditions! These auditions will take place at our new Intensive Training Centre on Friday September 6, 2019.
Please register your child online through our Website under the West Location (Glenbrook Plaza). Create an account and you will see the Fall Intensive Auditions 2019 tab.
Please make sure you arrive at least 20 minutes early to warm up and check in. There will be plenty of friendly faces here to help direct you where you need to go and answer any questions you may have!
Dancers will need to wear a bodysuit and tights or a half top/form fitting tank top and shorts.
Hair should be securely tied back off of the face (a bun is recommended)
Boys please wear a white t-shirt and black pants/shorts
We ask all dancers please bring a headshot to their first day of auditions. For the headshot dancers should be wearing a black bodysuit with their hair slicked back in a bun (no jewelry, scrunchies, bows, or other headpieces should be worn).
Please clearly print the following information on the back of the headshot:
-dancer's first and last name
-dancer's age
-dancer's height
-all disciplines the dancer is auditioning for
Please see the example headshot below: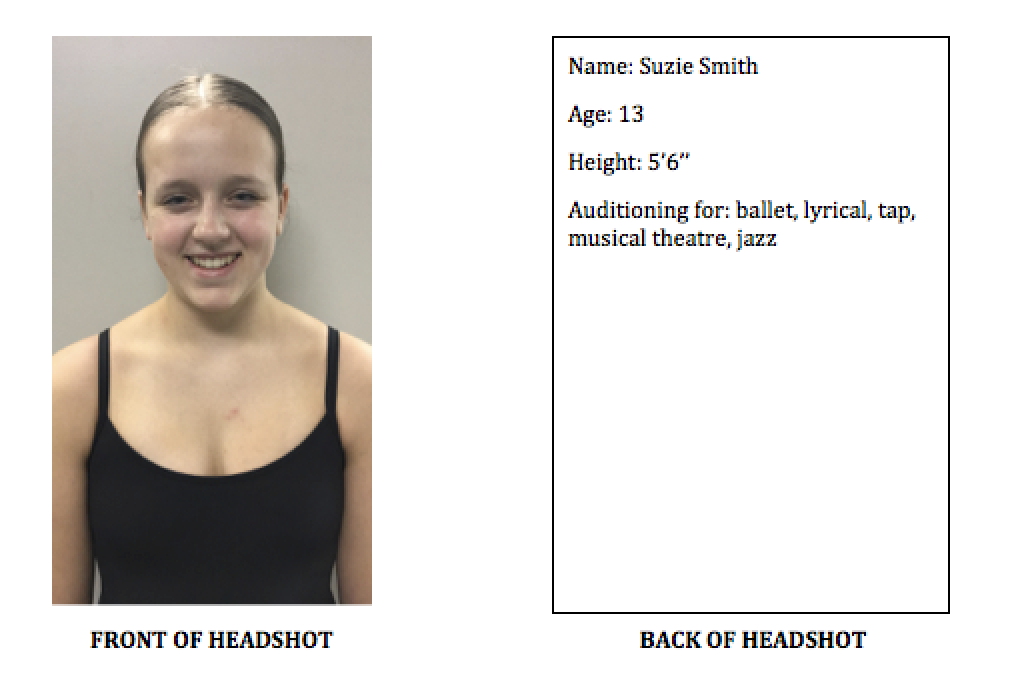 If you are unable to attend the in-person audition dancers can send a video audition showcasing technical steps across the floor as well as a short combination in each discipline the dancer is auditioning for. For example, if a dancer is wanting to audition for tap, jazz, and lyrical they must submit three videos highlighting their work in each of these disciplines. We strongly encourage also including a video demonstrating ballet technique. The cost of a video audition is $20/discipline. Alternatively, dancers unable to attend the in-person audition can book a private in-person assessment with a member of our Management Team. An in-person private assessment is $60/dancer and will run for 30 minutes.

Dates & Times
2019 Fall Auditions!
Friday September 6th @ the ITC
Please see registration website for class times and schedules.