Summer Dance Camps
Dance camps are a great way to expose your child to the different styles of dance and get them comfortable in our studio before starting their class in the fall!
Our dance camps consist of all different dancing styles including Tap, Jazz, Ballet, Hip Hop, Musical Theatre & more! Each day within our themed camps will focus on something different related to the weekly theme. We find that the modern themes make each day at dance camp different and exciting. We spend lots of time planning each special theme so that each week is unique.
Summer Dance Camp Schedule
The summer schedule will be updated when new classes become available. Please check back soon!
Summer Camp Covid-19 Safety!
In the light of newest Covid-19 health and safety guidelines provided by the chief medical officer of heath, we are modifying our summer dance camps.
Prestige runs summer camps that exceed the precautions outlined by chief medical officer of health.
For the past 18 years we have committed ourselves to providing amazing dance camp experiences, and through an innovative spirit, we will do so again this year.
Prestige continues to adapt to and stay up-to-date with the guidelines set out by our health officials so that your safety comes first.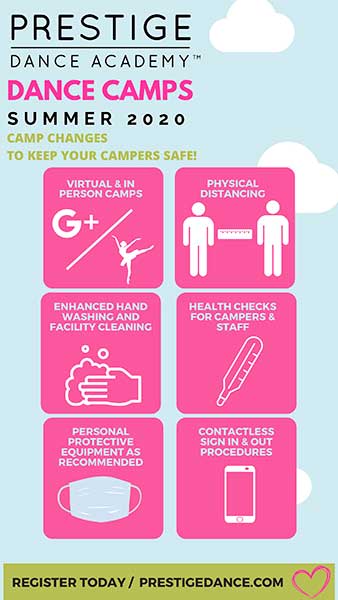 West
(Glenbrook Plaza)
#134, 3715 51st Street S.W.
Calgary, AB T3E 6V2
Intensive Training Centre
(ITC)
#6725 Fairmount Drive SE,
Calgary, AB T2H 0X6
Intensive audition required for acceptance to the ITC.
South
(Auburn Bay Station)
#616, 100 Auburn Meadows Drive SE,
Calgary, AB T2G 3M5