October is a time that Canadians reflect on many emotions and subjects—fear, thankfulness, and truth and reconciliation. With all of these topics swirling around in our hearts and our heads, one thing is for certain: at Prestige, we are thankful to learn. To learn more about our community; to learn more about our nation's past, and what that means for our future; and to learn more about our fears and emotions that become a part of our art.  
It has long been our policy to adapt our practices where we need to, to be innovative, and to draw inspiration from the world around us while supporting our community. And each year, through each growth spurt, we are so thankful to see that we are still learning, that our community has kept our studio thriving to give us these chances to learn.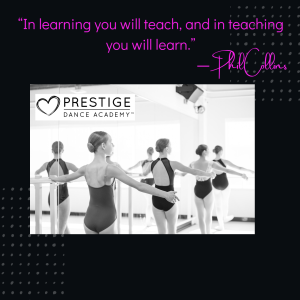 Dance is not an artform that is static. We don't learn the steps once and then call it good. Art always comes with new trends, new challenges, and new opportunities. In fact, almost any dance teacher can tell you that dance just isn't the same as it was back when they were dancing. As an art form and a sport, its growth has been exponential.  
As new teaching techniques have emerged, dancers have begun achieving skills at earlier ages than we ever thought possible. As acro dance and contemporary have expanded, they have transformed every dance genre. Prestige works tirelessly to keep our teachers up-to-date with these changes in the dance world so that our dancers—from our babies to our adults, our recreational to our competitive students—are always receiving top-tier technical education. 
Beyond the changes in technique, the approach to the emotions in art have also reformed our choreography. Inspiration for choreography may come from the news, a book, or a conversation with a friend, but what makes it so powerful is the emotion. As more and more research brings to light how essential it is to feel our emotions and how important it is to validate them, dancers and teachers have begun to discover new ways to express themselves through dance. The past few years have come with many world-altering revelations of our past, present, and future, and this October, we plan to use these revelations to learn and reflect in order to enrich our standards. 
You may have heard, many times, that at Prestige Dance Academy, we learn about so much more than just dance, and this continues to be true. We teach our dancers how to get in touch with their bodies, their emotions, and their community. Our dancers learn how to harness their fears or insecurities into something productive. They learn how to push themselves, and when they need to pull back to protect themselves. Friendships are made and challenges are overcome. Dancers learn to approach their bodies, their teachers, and their classmates with honesty and respect. And while this is all much more than "just" dance, it also is just part of what we need as athletes and artists.  
It is such an incredible gift to teach our students, and all the staff at Prestige are incredibly thankful for the opportunity to learn from you while we teach.  To our community, to our dancers, we are thankful to learn, and we are thankful for you.