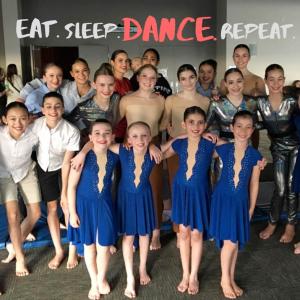 Ah, finally, competition season is upon us.

This is the time that many of our dancers here at Prestige Dance Academy wait for all year long. There isn't anything quite like putting on those costumes and dazzling a crowd. The excitement and tension right before you take that first step onto the stage is rivalled only by the energy that courses through you as you take your final bow.
Yes, this is our time to shine—in more ways than one.
As effortless as it all seems as you sit in the audience, we didn't magically arrive at this point, and we didn't get here alone. Intensive dancers have been eating, sleeping, and breathing dance this year. They have worked hard, and they have worked together.
For every awe-inspiring solo you see perform, there are friends backstage cheering them on. For every perfectly timed tap line, you're seeing the results of sleepovers with the music set on repeat. For every beautiful arabesque line, you're witnessing hours of technical training. Every thoughtful piece of choreography is the product of sleepless nights and midnight epiphanies. Every prop has come from the sweat of our volunteers, and even those clean-cut hairstyles came from the dedication of our parents.
Community, teamwork, passion, and positivity.
Competition season is a showcase of all of the teamwork, effort, time, and energy that dancers, parents, volunteers, and teachers have put in all year long. This year has been full of shows, exams, guest choreographers, camps, extra rehearsals, costume fittings, and dress rehearsals. All year long we have been working side by side: stretching, laughing,  doing homework, and even eating meals together. Whether it is your first or fifteenth season with us, it is clear that Prestige Dance Academy thrives off of community, teamwork, passion, and positivity—and it's important that we all remember these values outside of our studio walls as well.
Healthy competition between studios, and between friends, helps drive us to challenge ourselves and create goals. We must always remember, however, that you are working to perform your best. Your greatest goal should be to grow stronger than you were yesterday, not to beat someone else. Push each other to be the best that you can be while raising each other up. Let's be gracious with one another through the inevitable mistakes, and help each other breathe through the nerves. Understand that dancers from other studios are going through all the same things that you are, and let your kindness and positivity shine through to them as well.
We are kind, generous, passionate, and strong.
You are the face of Prestige, wear that proudly, and remember the values that you wrote on the We Are wall: We are kind, generous, passionate, and strong. The friendships you have made are worth far more than any trophy, and your successes are measured by your attitudes—not your marks. You have learned how to work together, how to persevere, and how to grow. Believe it or not, these competitions are not the destination; they're simply a stepping stone in the journey to becoming thoughtful, strong, and tenacious human beings.
Intensive Gala
This year, we have decided to help celebrate the effort of our intensive community by hosting our very first Intensive Gala. This gala will help raise funds for our intensive dancers, and the Prestige Pursuit of Passion Project. The dancers that are interested in auditioning for next year's Intensive Program will find themselves inspired, and parents will get a taste of the intensive community.
Being an intensive dancer is an investment. It's a commitment. It's challenging.The results, however, speak for themselves.